What is Vizucate?

Vizucate is a huge gallery of 3D characters in a wide variety of poses and expressions, shot from multiple camera angles. They enhance presentations, elearning artifacts, newsletters, websites, training materials, advertising, marketing and software movie demos by adding a human element to your communications.



Why use Vizucate?



Recognizing faces is one of our most fundamental cognitive processes. Of all our visual stimuli we seem to be drawn to them, even to the point of seeing them in shapes and textures where they're not. By adding a human context to your communications you'll subconsciously grab your audiences attention in this instinctual, naturally memorable and difficult to override manner.

How do I use Vizucate?

If you can drag and drop, or copy and paste then you can use Vizucate. Simply move the character file from its source folder into the media application you use. The files are in PNG format and can be imported in the same way any other images are used on you computer. For a better feel, have a look at the workflow diagram below.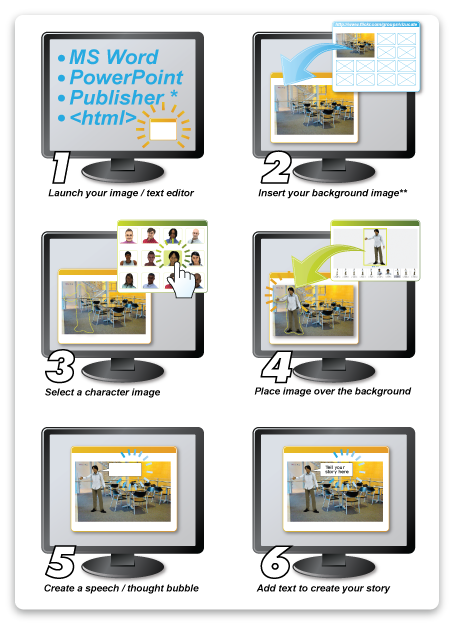 What is unique about Vizucate 2?



Vizucate is not just a tremendous volume of character images. It is an organized library of poses, camera angles and expressions for each character.
Each character has 33 poses
Shot from 10 different angles
All of these files are provided in 3 expressions
Total of 990 images per character
Why so many images?

The beauty of having such a vast image library at your disposal is that you have the ability to use a single character to tell a lengthy story and always have a fresh or interesting image on hand. This range makes the character feel that they have more depth and creates a cohesive style to your message.


You need more Variety?



Start by adding a narrator, use speech bubbles and they'll corroborate your message, then explore deeper subtleties of your story by adding more characters to build out dialogues, and even plot lines! You can also choose between using realistic or cartoon characters to suit your target audience.


How do I learn more?

You can learn more about how Vizucate can add value to your organization by contacting Qarbon's sales staff at 1-855-VIEWLETor through our Contact Form.